The following site is as it was during the campaign with no updates since. For now, you can view photos from the work we did before the election. However, we will soon use this site to list activities and events that St. Lucie residents participate in with President Bush, the first family or his staff or cabinet. The Bush Family is quite a friend to Florida and her residents!
Welcome to St. Lucie County for...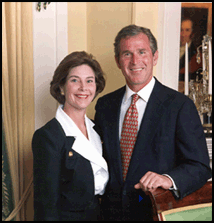 Why should a St. Lucie County or Treasure Coast resident vote for George W. Bush? Well, besides having bright ideas that appeal to every race, age, and culture in America, George W. Bush has strong ties to the people of the Sunshine State. Not only is his brother, Jeb, the Governor of Florida, but George W. Bush brought his former Major League Baseball team, The Texas Rangers, to Florida to train, creating jobs and leisure opportunities for many state residents. Bush also often fishes the waters of Florida, and is familiar with the fragile ecology of our state.
The opportunity to have a Bush at the helm of our state and nation is a connection that will greatly benefit us all. George W. Bush is the natural choice to lead Florida, and the rest of the states, in this new millennium.
After you're through here, don't miss the official George W. Bush for President (www.georgewbush.com) site. And, feel free to contact your local St. Lucie for Bush Committee at StLucieGOP@usa.net. We need your help, and especially, your vote!
St. Lucie County "Bush for President" Chairs:
Mike and Mimi Brown
and Co-Chairs:
Alto "Bud" Adams, Jr.
Thom Epsky
Joe Finnegan
Allen Miller
Bill Minton
Jane Rowley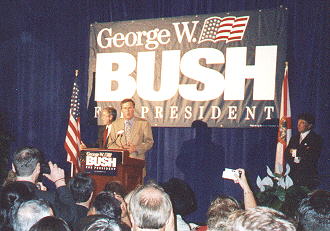 The Governor of Texas and future President of the United States is introduced by his brother, the Governor of Florida, at the state's Republican convention in Orlando.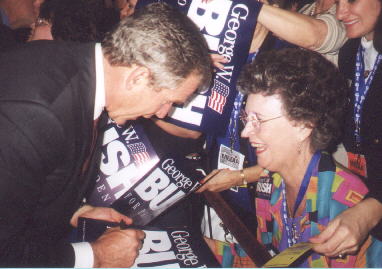 George W. Bush takes a moment during the convention to greet St. Lucie County's Clerk of the Court JoAnne Holman.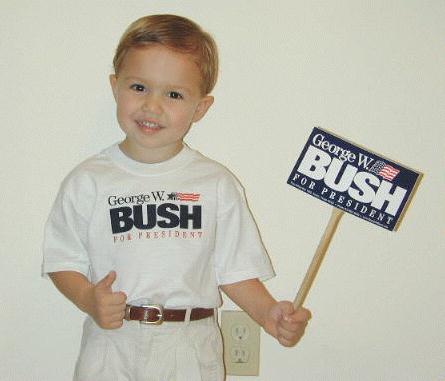 A candidate couldn't ask for a cuter spokesperson. This was sent in to us by Port St. Lucie resident Mark Steighner, who agrees with George W. Bush that strong family values are important to the future of America.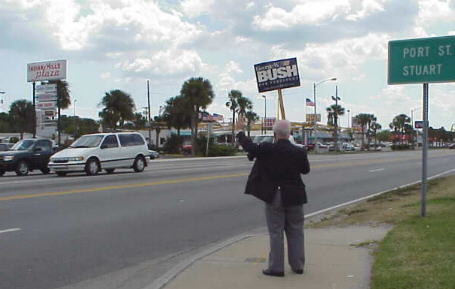 Allen Miller takes the Bush message to the streets of Fort Pierce during Florida's Presidential Primary. Bush easily swept the state's vote, securing his nomination as the Republican Party's candidate. Much of this is due to the work of volunteers like Allen... or YOU! Please contact us now and join the Bush team!
This site was conceived and is operated by volunteers and is not endorsed by George W. Bush or Bush for President, Inc.